Online
Phone
Speak with our friendly staff Monday-Friday from 9-5 and on concert days. Charge by phone toll-free at 800-726-7147 using Visa, Mastercard, or American Express.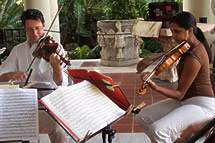 Mail or Fax
• Complete the order form
• Mail:
Include payment and send to:
Southwest Chamber Music
638 E. Colorado Blvd., Suite 201
Pasadena, CA 91101-2006
• Fax: 626.685.4458
Tickets cover only 30% of our concert expenses. In order to keep our ticket prices low and support our extensive community and educational programs, please consider adding a tax-deductible contribution to support Southwest Chamber Music. Don't forget - donors of $250 or more receive a special invitation to meet the performers at an exclusive open rehearsal during the Summer Festival. Please
click here
to make your donation separately from your ticket order, through secure Paypal.
Note:
If you purchase your tickets within 7 days of the concert date, we will hold your tickets at the Box Office for pick up at the concert venue. We will mail your tickets to you if your order is placed more than 7 days before the concert.
Ticket holders, please note the following:
• Free parking and admission to The Huntington are included.
• Grounds open at 5:30 for dinner and picnicking patrons and at 6:30 for concert patrons.
• Only a limited area of the grounds adjacent to the Loggia are open.
• No children under 8 years of age will be admitted.
• Lawn Admission ticket holders must provide their own blanket or lawn chair for seating.
• Picnicking is allowed only in the lawn area adjacent to Loggia.
• The Huntington Art Gallery is open at 6:30 p.m. and at intermission.
• Loggia seating is first come, first served.
• Please keep you ticket stub during the concert: ticket stub is required to re-enter Lawn and Loggia areas following intermission.
• Lawn Admission is on the east side of the Loggia, with restricted view of the performers.
• Programs and artists are subject to change.
• No refunds or exchanges can be provided.
All ticket sales are final. We are unable to provide refunds or exchanges. Programs and artists are subject to change.
Ticket Donations
You may donate unused tickets as a tax deductible contribution to support free student attendance at the concerts.
Lost Tickets
We keep a record of all ticket purchases. Please call us at 626.685.4455 if you have lost your tickets and we will be happy to replace your tickets at no additional charge.
Child Attendance Policy
Our full-length concerts are not appropriate for children under the age of 8. However, we offer special programs for children. Please sign up for our email list to receive notices of children's programs during the year.